Travel Medicine Specialist in NYC: Your Guide to Safe Travels
At our NYC travel medicine clinic, our specialized travel medicine specialist is your ultimate guide to safe travels. We offer a comprehensive range of travel health services to ensure your well-being during international journeys. Our expert provides personalized travel health advice, vaccinations, and preventive measures tailored to your destination and itinerary. From pre-travel consultations to post-trip evaluations, we prioritize your safety and health. Whether you're a leisure traveler or a frequent globetrotter, trust our travel medicine services to safeguard you from travel-related health risks and make your adventures memorable and worry-free.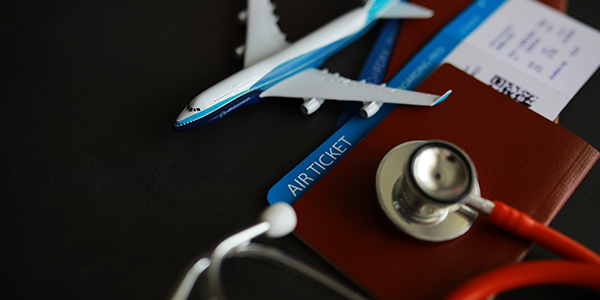 Expert Travel Medicine Services in NYC: Your Safety Companion for Global Adventures
Are you planning an exciting international trip? Ensure your health and well-being with our expert travel medicine services in NYC. At our dedicated travel medicine clinic, we understand the unique health considerations travelers face, and our travel medicine specialist is here to guide you through a safe and healthy journey.
Personalized Travel Health Advice
Traveling to different regions exposes you to diverse health risks. Our travel medicine specialist provides personalized travel health advice based on your destination, itinerary, and individual health profile. We'll help you stay informed about potential health hazards, preventive measures, and necessary vaccinations.
Comprehensive Vaccination Services
Vaccinations are essential for protecting against infectious diseases prevalent in specific countries. Our clinic offers a comprehensive range of travel vaccinations, including routine vaccines and those recommended for specific destinations. From flu shots to yellow fever vaccines, we've got you covered.
Preventive Measures and Medications
To safeguard your health abroad, our specialist recommends preventive measures, such as mosquito repellents and anti-malarial medications for regions with malaria risk. Additionally, we provide medications and guidance to manage common travel-related issues like traveler's diarrhea.
Pre-Travel Consultations
Prior to your departure, schedule a pre-travel consultation with our travel medicine specialist. During this consultation, we'll review your health history, assess your travel plans, and tailor our recommendations to suit your individual health needs.
Post-Trip Evaluations
After your journey, consider a post-trip evaluation to ensure your well-being. If you experienced any health concerns during your travels, our specialist can assess and provide appropriate medical care and advice.
Expert Guidance for Business and Leisure Travelers
Whether you're traveling for business or leisure, our travel medicine services cater to all types of travelers. We're here to address your specific needs and ensure you're prepared for a healthy and successful trip.
Travel with Confidence
Traveling should be a rewarding experience, and your health should never be a concern. With our travel medicine services, you can embark on your adventures with confidence, knowing that your health is in capable hands.
Schedule Your Travel Medicine Appointment Today
Don't leave your health to chance while exploring the world. Schedule an appointment with our travel medicine specialist today. We'll equip you with the knowledge and tools to make your global adventures safe and enjoyable.
Your Safety Matters to Us
At our NYC travel medicine clinic, your safety and health are our top priorities. Trust our expert travel medicine services to protect you and your loved ones as you embark on exciting journeys around the globe.
Frequently Asked Questions (FAQ's)